Cryptocurrency has been such a popular topic over the last couple of years, not just the big rise in Bitcoin prices in 2017 as well as the run up across the board late last year and YTD (Shiba Inu, Dogecoin, etc).
With that in mind, and putting our data skills to the test, we decided to build an example crypto tracking application that gives users an ability to view crypto data trends in an interactive way.
Crypto is unique in that there is an abundance of free and available data online such as from the website CoinGecko (where we get our stats from as well). Financial market data is less easy to get data from so that's a good headstart for us.
This example app is available here: LINK
When you get to the app there are 3 menu options: Trend/Historic, Current, Coin Comparison.
Trend/Historic
Under Trend/Historic, this allows users to view the top coins by market cap or growth. There are filters at the top of the page for the selection of different coins as well as to change the date period being filtered. Users can change the dates filtered and this will change the rankings for the growth rate and the market cap bar charts.
The time series charts show the average price and volume for multiple coins when no specific coin is selected and a singular coins volume and price when only one is selected.
The user can also click on the bar charts to change what is being shown and whether its selections from the charts or selections using the filters, users can multi select coins by holding down the CTRL button.
Current
This page shows a table of the latest stats that are provided by CoinGecko in table format. This includes not just market cap but also market ap dominance (e.g. weighting) as well as various price metrics. Right now we only cover the top ~40 coins and even though there are hundreds of them out there, this top grouping accounts for ~88% of the total market cap.
Users can click on the headers to change the sort order for the coins we have in our app.
In the screenshot below the user has selected Bitcoin, Ethereum, Tether and XRP
Coin Comparison
In this section, users are given a multi chart view of various coins with price and volumes shown. Depending on the coins selected, the y-axis will normalise to be common across the board so if you have Bitcoin, Ether and other big names in your selection alongside smaller coins, the smaller ones will seem quite flat.
Users can use the filters at the top of the page to select which coins they want as well as change the date filters.
See it in action
Here's a couple of animations so that you can see how it works.
In this example we are on the Trend/Historic page and have selected a few coins from the latest market cap ranks and then selected them based on their growth between the dates filtered (1 Jan 2021 to 1 June 2021). We also maximise one of the charts so you can see more detail.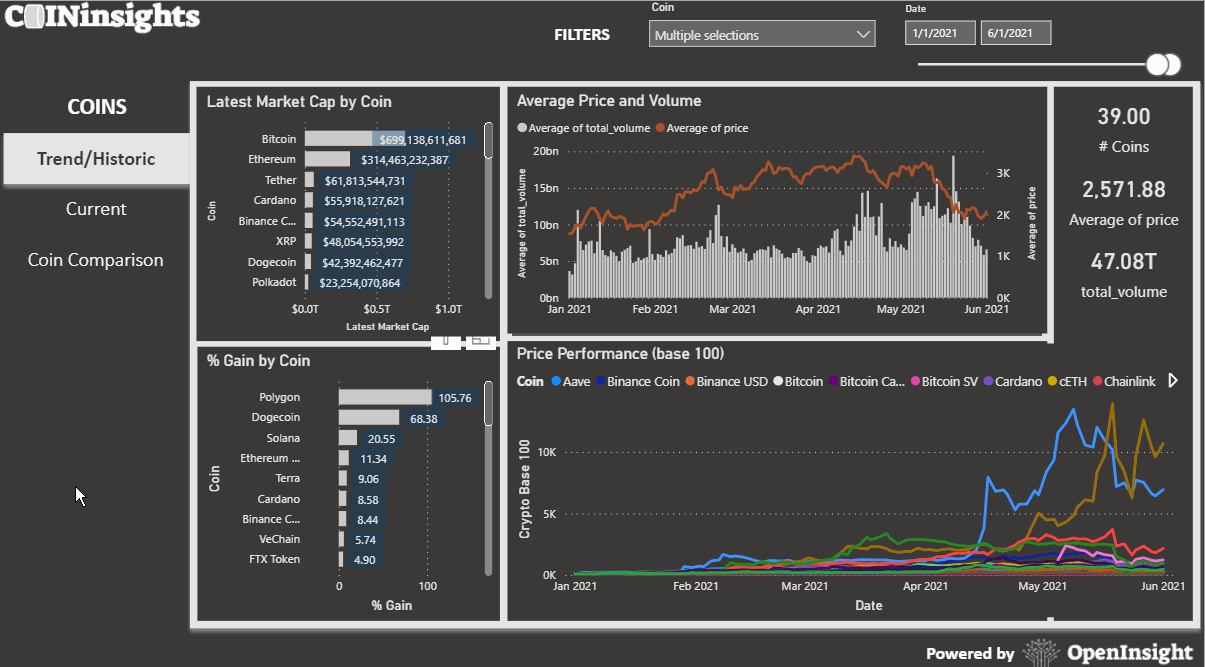 In this animation we are looking at comparing different coins. By default a large number are selected and we need to deselect them and then select only a specific number (in our case 6). If the coins have similar pricing and volume movements you'll see them more easily comparable as they all will share the same y-axis on the chart.
If you're after a data solution like this or want to turn your raw data into powerful new insights, get in touch so we can help you too!